Hawaiin Airlines Phone Number & Support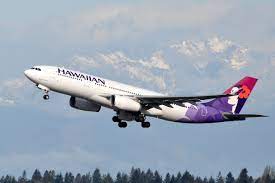 For all of your travel requirements, Hawaiian Airlines Phone Number & Support offers reliable help. Any questions you may have regarding reservations, flight changes, baggage , or other issues can be solved by calling their specialized team. You can trust fast and helpful support from their dedicated customer service staff to make your Hawaiian Airlines experience enjoyable and easy.
HawaiianMiles Service Center
1-877-HA-MILES (1-877-426-4537)
1-877-HA-CARGO (422-2746)
Tips to get faster Hawaiian Airlines customer service
1. Utilize the Hawaiian Airlines Website
The Hawaiian Airlines site helps you find information and answer frequent questions. Visit their official website for detailed information on reservations, flight times, baggage rules, and more.
2. Check the Frequently Asked Questions (FAQs) Section
On its website, Hawaiian Airlines keeps a FAQ section. Various reservations, cancellations, baggage, special services, etc., are covered in this area.
3. Contact Hawaiian Airlines Customer Service by Phone
Suppose you have an urgent query or need immediate assistance. In that case, the Hawaiian Airlines phone number is available on their website, such as the "Contact Us" or "Customer Support" section, to find the appropriate phone number to call.
4. Use Online Chat Support
Hawaiian Airlines may offer an online chat option for customer support. Look for the chat icon on their website, usually located at the bottom right corner. It can be an efficient way to get faster responses and address your problems or questions.
5. Be Prepared with the Necessary Information
Gather all relevant information related to your query. It includes your booking confirmation number, flight details, passenger names, and supporting documentation. Having this information will help the customer service representative assist you more efficiently.
6. Stay Polite and Patient
While seeking faster customer service, it's essential to maintain polite and patient behavior. Remember that customer service representatives are there to help you; being respectful will enable a more positive interaction.
Hawaiian Airlines issues & solutions
1. Flight Delays or Cancellations
Flight troubles can occur for various reasons, such as rough weather, technical issues or operational restrictions. In such cases, Hawaiian Airlines aims to keep passengers informed through notifications via email, SMS, or phone calls. 
2. Baggage Problems
Lost, damaged, or delayed baggage is another issue that can arise during air travel. Hawaiian Airlines has a dedicated Baggage Service team to handle such incidents. Passengers should report the issue at the airport's Baggage Service Office or online through the airline's website. 
3. Reservation Changes or Issues
Passengers may need help with reservations, such as incorrect names, flight date changes or seat assignments. To address these issues, Hawaiian Airlines provides customer service support via phone, email, or online chat. 
4. Customer Service Assistance
Passengers occasionally need further help or have specific questions that need to be answered. To solve these issues, Hawaiian Airlines provides customer service support. Customers can reach the airline's customer care personnel via phone, email, social media, or online chat.  
4. Feedback and Complaints
If passengers have feedback, complaints, or suggestions regarding their Hawaiian Airlines experience, the airline encourages them to provide feedback through their official website or customer service channels. 
What is the phone number for Hawaiian Airlines lost and found?
The phone number for Hawaiian Airlines Lost and Found can be obtained by calling their customer service department or visiting their official website, or it is suggested to report any missing items as soon as possible.
How do I speak to someone at Hawaiian Airlines?
To talk with a representative, you can call Hawaiian Airlines' customer service number, shown or available on their website. Alternatively, look into email or online chat methods for your questions or concerns.
How do I find flight number?
To find your flight number, check your schedule, booking confirmation or e-ticket. A collection of letters and numbers that uniquely identifies your particular flight often makes up the flight number. It is necessary for tracking and locating the specifics of your flight.
How do I check my flight ticket confirmation?
To check your flight ticket confirmation, visit the Hawaiian Airlines website and navigate to the "Manage Reservations" or "My Trips" section. Enter your booking or reservation details, such as your name and confirmation number, to access your flight ticket confirmation.